Create successful campaigns with social media marketing analytics
Monitor up to five years of campaign buzz, engagement, and reach across all major social media networks, blogs, forums, news sites, and more. Find patterns and compare results to discover what works for your brand. Drill deeper into campaign insights by filtering and sorting results by language, location, and sentiment analysis metrics. Track campaign performance in real-time with our easy-to-use dashboards so you can see the impact of your social marketing every day, hour, or minute.
Check out our Social Media Listening Guide for more details about creating successful campaigns.
Track campaign performance
Virality map reveals how content spreads across multiple media types
Free Social Search for real-time tracking of band, campaign, hashtag, or event
Create automated alerts to monitor online sources & receive email updates
Filter by language, location, sentiment, and demographic
Facebook Insights integration for data that will optimize your multichannel campaigns
Centralized social media analytics
Centralize all your social media data with one tool. Rather than logging in and out of multiple social media analytics tools, save time by adding your social media profiles and those of competing brands to a single dashboard. You'll be able to analyze key metrics from your customers, campaigns, competitors, and the industry as a whole.
Centralizing your social media accounts, helps bring all your Instagram analytics, Facebook analytics, Twitter analytics, and more into one platform. Revealing the true voice of your consumers, and bringing actionable insights to improve your social marketing strategy.
Key metrics you can track
Hashtag & campaign tracking – shares, reach, engagement, mentions
Sentiment analysis

– what's driving negativity & positivity
Image recognition

- protect your trademark & reputation
Google Analytics + Talkwalker for social media ROI
Virality – track how your content spreads across the web & social
Influencer marketing – identify industry influencers & brand ambassadors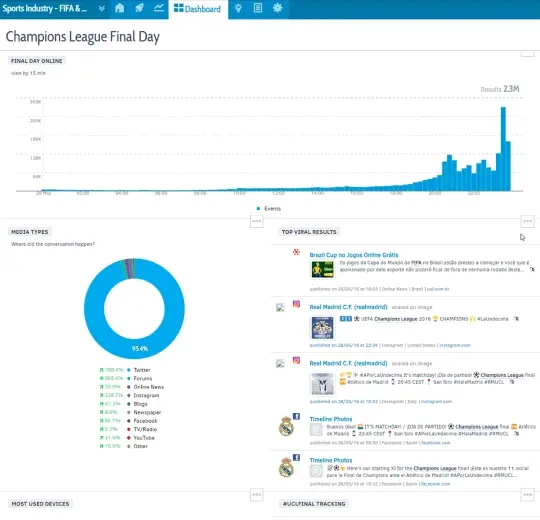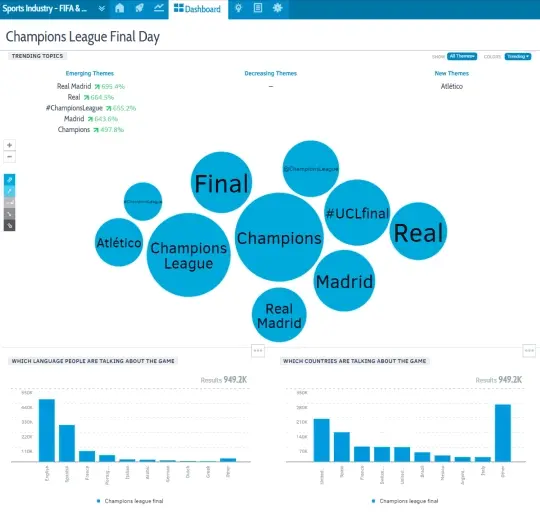 Competitive benchmarking
Internal benchmarking will tell you if your latest post is doing better than normal. Looking at your social media stats without context simply tells you that you're doing better or worse than last week. It won't show you how you're ranking compared to your competitors.
Social media analysis of your social accounts alongside those of your competitors will show how you rank compared to other brands in your industry. Competitor analysis of your industry peers' social media presence will reveal key metrics on how they're positioning their products, what messaging is working for them, and feedback from their customers.
More details about competitive benchmarking can be found in our Social Media Analytics Guide.
Track & compare with competitors
Create custom reports in multiple formats (Word, pdf, PowerPoint, Excel) to share actionably insights across teams
Easily compare key performance metrics with those of your industry peers with

Competitive Intelligence

IQ Apps. Find strengths, weaknesses, and opportunities instantly
360° view of any brand, company, or industry; with access to 100% of tweets, major social networks, 150M websites, print, and a 30,000+ logo database
Identify influencers for your brand and industry
When identifying influencers for your brand, it isn't how many followers they have, it's how much engagement, shares, and comments their content earns. We trust recommendations from a third party over a brand, even if the testimonial is coming from someone we don't know. Our social media analytics tool provides influencer insights that'll make choosing your experts easy.
Identify quality influencers for your brand, product, or event. Influencers that have the power to influence an entire community to trust your brand. Our social media analytics tool will provide influencer insights that'll make choosing your experts simple.
Check out our Social Media Analytics Guide for more detailed information.
Find the right influencers
Filter results by country, language, media, reach, engagement rate, number of posts, & sentiment – on easy to use dashboard
Find out what your influencers are talking about, which media channels picked them up, what hashtags they're using. Our virality map will show you the viral reach of your influencers
Image recognition

technology will find visual mentions online of your brand by influencers so you can take advantage of this free advertising from a big name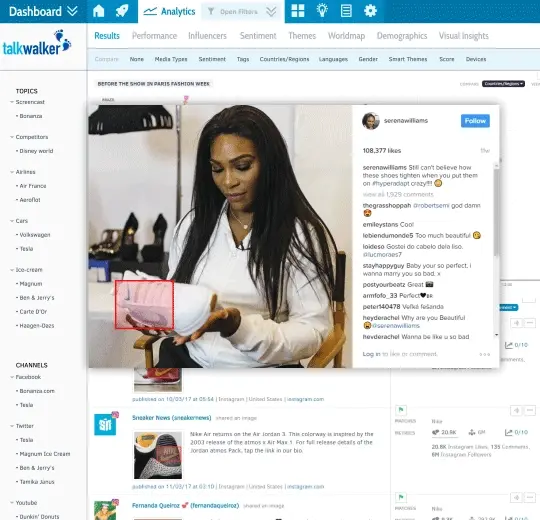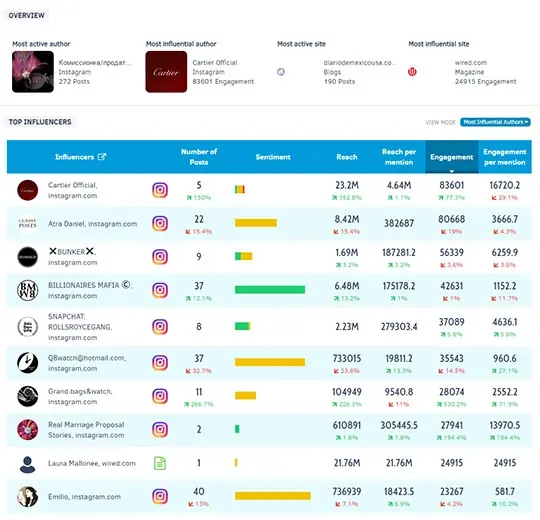 Discover trending topics
Use social analytics to get real-time updates on what your industry is talking about, consumer opinion and brand sentiment. Understand what's driving the conversation so you can make contextualized offers to your audience, and guide your marketing and sales teams.
Find actionable insights
Discover top stories using our trending score
Find themes & sentiment behind industry chat, & related topics discussed by your audience
Quick Search, our real-time search engine, will find trending stories to create viral content
Analyze the top hashtags, people, and brands linked to trending stories with Smart Themes
Add Your Own Data

Combine social listening data with lead gen figures, sales data, weather data and more to find correlations that affect key business indicators.

Custom Filters

Create your own data filters using 50+ Boolean operators to find the exact insights you need.

Intuitive IQ Apps

Use our pre-set dashboards for crisis management, competitive intelligence, campaign monitoring and more to uncover data-based insights for a variety of business needs in a matter of seconds.

Smart Themes

Automatically identify the key people, events, companies and emotions linked to your brand using our unique theme analytics.

Social Channel Analytics

Deep dive into the performance of owned social channels and competitors using comprehensive social channel analytics. Analyze reach, engagement, share of voice, the trending score of your posts and much more.

Rule-based tagging

Save hours of time by creating customizable rules to automatically sort through results. Improve sentiment analysis by adding rules relevant for your needs.

Influencer Analytics

Use influencer monitoring to find the bloggers, tweeters and journalists who are driving the most engagement. Sort results by positive and negative sentiment to find your true brand ambassadors.

Virality Map

Replicate viral campaigns using our unique virality map. Instantly identify the key influencers, blogs and publications that helped a campaign spread worldwide.

Sentiment in 127 languages

Track brand reputation over time, view results by country, language or media type and manually adapt results as needed. All this in English, German, French, Spanish, Chinese, Indonesian, Portuguese, Italian, Danish, Swedish, Norwegian, Finnish and more.
Frequently
asked questions