Free Social Media Monitoring Tools
Convert real-time customer conversation into your next marketing campaign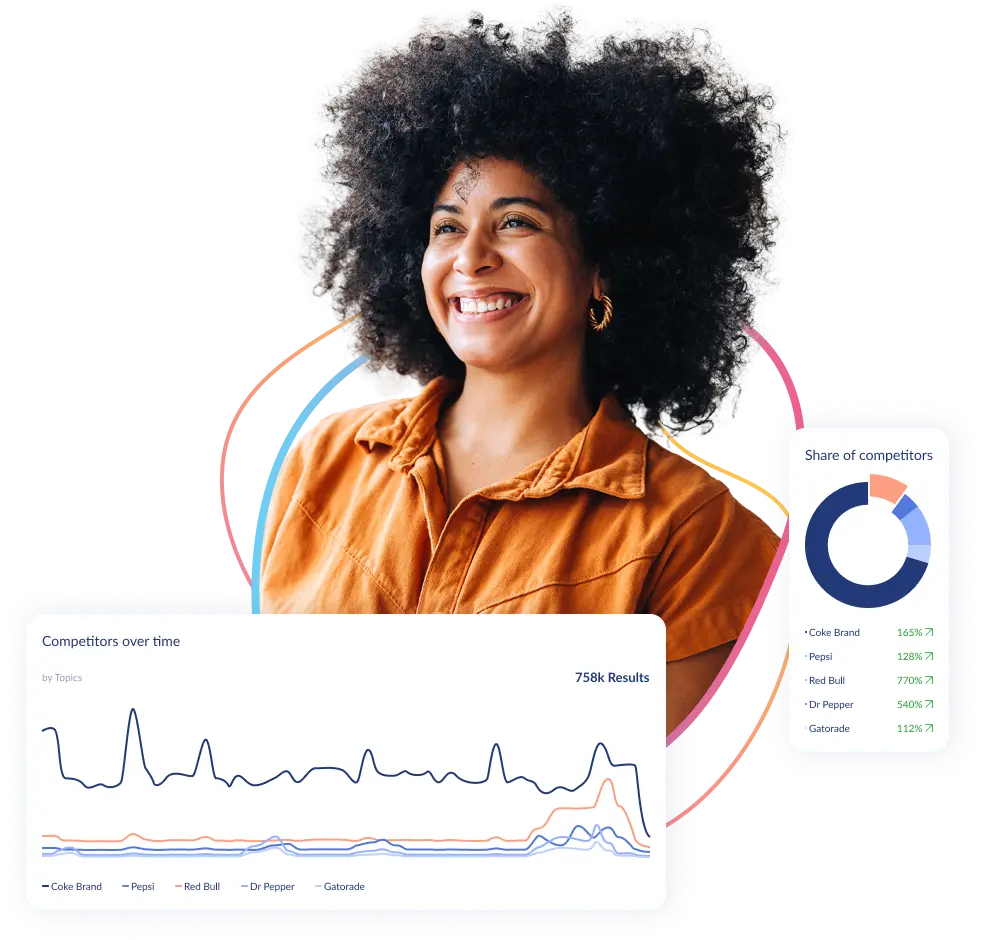 Talkwalker Alerts is the only free alerts system that follows your digital footprint across the internet and Twitter!
Talkwalker's Free social search monitors every conversation about your brand, hashtags and competition on social media
We can't give you a formula for kickass marketing campaigns. But our free social listening tools aka social media tracker(s) can help you every step of the way. Making social media monitoring easy.
Get in on every single conversation about your brand with just one click
Tired of tearing your hair, manually monitoring social media platforms and following every conversation around your hashtags? Let us do the frustrating bits and collate all your brand mentions so you can concentrate on the fun stuff.
With our free marketing toolkit, we trace your social footprint online.
Track social media activity for complete share of voice.
Provide insights on the posts that drive the most social engagement.
Use our social monitoring tool to help with your reputation management.
And tell you what social channels work best through brand monitoring.
Identify your next big hashtag BEFORE it starts trending
Take the load off your content team. Discover and monitor social media trending topics before they go viral.
Use free analytics tools to target your audience better with content they really want to read.
Learn what makes your audience tick and turn it into your next cash cow.
Promote your products or services through social media marketing.
Turbo-charge your SEO by finding backlink opportunities you didn't even know about ... for FREE!
Find a never-ending list of backlink opportunities and have them delivered right to your inbox!
Boost your SEO by knowing who is talking about you and when to reach out to them.
Identify emerging influencers with a social media tracker that actually gets the job done and capitalize on their growing fanbase.
Monitor and keep track of how your keywords evolve on the internet and shape your content accordingly.
Get ahead of the competition by keeping a close eye on them with our free social media tracker
Ever wanted to know exactly what the competition has been getting up to? Just monitor their social mentions.
Know everything about your competition across the internet – the good, bad and the ugly
Manage and monitor your brand reputation by taking timely action – before your competition can
Talkwalker is the platform of choice for over 2,500 brands





What is Talkwalker's Free Social Search?
Free Search is a social media tracker, that enables you to monitor conversations about your brand. It combines social media posts and other social data, with mentions from across the web. So you can track brand mentions, and detect when/how people are discussing you.
Free Search includes 7 days of historical data. Talkwalker's complete social media management tool can provide up to 5 years of back data. It can also provide custom reports.
What are the advantages of social media monitoring?
Social media monitoring offers several advantages for businesses and individuals alike. Here are some key benefits:

Brand Reputation Management: Social media monitoring allows you to keep a pulse on what people are saying about your brand. By tracking mentions, sentiment, and customer feedback in real-time, you can quickly identify potential issues or crises and take proactive measures to address them. This helps to preserve your brand's reputation and maintain customer trust and loyalty.

Competitive Intelligence: Monitoring social media conversations about your competitors can provide valuable insights into their strategies, strengths, and weaknesses. By benchmarking your brand against competitors, you can identify areas for improvement, adapt your own strategies, and gain a competitive edge in the market.

Customer Insights: Social media monitoring provides a wealth of information about your target audience. By analyzing conversations, sentiment, and demographics, you can gain a deeper understanding of their preferences, behaviors, and needs. This knowledge allows you to tailor your marketing messages, content, and campaigns to better resonate with your audience, leading to increased engagement, customer satisfaction, and long-term business growth.

Crisis Management: Social media monitoring enables early detection of potential crises or negative sentiment surrounding your brand. By identifying and addressing issues promptly, you can mitigate the impact on your brand's reputation and customer perception. Proactive communication strategies based on audience sentiment can help you navigate challenging situations and maintain a positive brand image.

Content Strategy Optimization: By monitoring social media conversations and trends, you can identify popular topics, interests, and content formats that resonate with your audience. This helps you generate fresh ideas for content creation, ensuring that your messaging stays relevant and engaging. By understanding what works and what doesn't, you can optimize your content strategy for better audience engagement and increased brand visibility.

These are just a few of the advantages of social media monitoring. By leveraging the power of social media data, businesses can make informed decisions, drive effective marketing strategies, and build stronger relationships with their audience.
What is Talkwalker Alerts?
Talkwalker Alerts help boost your social media monitoring strategy. By finding keyword mentions from across the web, it saves time trying to find critical brand conversations. The Alerts management platform lets you decide when and how you want to receive your Alerts. You pick how often and how many Alerts you receive.
What are the advantages of using Alerts for social media tracking?
Using Alerts for social media tracking offers several advantages:

Real-time Monitoring: Alerts allow you to receive instant notifications whenever specific keywords, mentions, or topics are mentioned on social media. This real-time monitoring enables you to stay on top of conversations that are relevant to your brand or industry, ensuring that you never miss important updates or opportunities.

Proactive Crisis Management: Alerts help you detect potential crises or negative sentiment surrounding your brand as soon as they arise. By setting up alerts for specific keywords or sentiment triggers, you can take immediate action to address issues, mitigate negative impacts, and protect your brand's reputation.

Competitive Intelligence: Alerts can be set up to track your competitors' social media activities, mentions, or campaigns. This allows you to gain valuable insights into their strategies, content, and customer interactions. By staying informed about your competitors' moves, you can identify opportunities, adapt your own strategies, and gain a competitive edge in the market.

Targeted Engagement: Alerts enable you to monitor conversations and mentions related to your brand, products, or industry. This allows you to engage with your audience in a timely and relevant manner, fostering stronger relationships and increasing customer satisfaction. By responding promptly to customer queries, feedback, or complaints, you can demonstrate your commitment to customer service and improve brand perception.

Content Discovery: Alerts can be used to discover trending topics, discussions, or content ideas within your industry. By setting up alerts for relevant keywords or themes, you can identify popular or emerging trends and create engaging content that resonates with your target audience. This helps to keep your content strategy fresh, relevant, and aligned with current interests.

Overall, using Alerts for social media tracking empowers you with real-time insights, helps you manage crises effectively, provides competitive intelligence, enables targeted engagement, and supports content discovery. By leveraging these advantages, you can optimize your social media strategy, enhance your brand reputation, and drive better business outcomes.