The ultimate guide to using Instagram hashtags for brands
With over 500 million daily users on Instagram Stories, and nearly 100 million photos and videos posted to the platform every day, it's easy to get lost in the noise. Use different types of hashtags to make your brand stand out.
Get your free ebook on marketing on the 'gram!
Table of contents
● Effective hashtag strategy for Instagram
● Using popular hashtags on Instagram
● When using hashtags on Instagram can backfire
● Newest hashtag features for Instagram
● Different categories of hashtags on Instagram
● Tools to identify important hashtags for Instagram
It's 2019 and your brand needs a strategy for Instagram. An essential part of that strategy is going to be how you use hashtags on Instagram to reach and connect with people interested in your brand. In this guide you'll learn how to hashtag Instagram posts because there's more than just one way.
You'll also discover some of the most popular hashtags, and most importantly learn which Instagram hashtag practices can actually be detrimental to your brand. We'll look at how you can deploy some of the newest features in Instagram effectively. Lastly, you'll dive into some of the different types of hashtags brands are using on Instagram and some of the best tools available to you to make sure your content is getting in front of the right eyeballs.
What is a hashtag?
The #HASHTAG, or as bitter Boomers insist on calling it - the pound sign - is the essential sorting mechanism of social media. While they might insist it's used to designate a phone number, the rest of the world has moved on to using it to categorize any piece of information on the internet. Hashtags can also be found on LinkedIn, Facebook, Twitter and Pinterest, but for now we'll be focusing on hashtags on Instagram.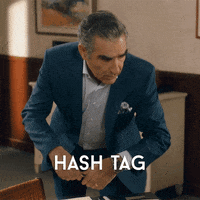 Source: GIPHY
Did that upset you, Boomer?
Sorry, I'm just a snowflake millennial.
Do you have goals for your Instagram strategy?
The first thing you need to do before you smash that #sign is set some #goals. This is actually a 2-step process. First you need an overarching goal. This goal informs your Instagram strategy. If you are a business then you probably consider conversions to be your most important metric.
Think of your hashtags as the top of your sales funnel.
Perhaps you are looking to become an #influencer and you need to focus on growing your follower count. Engagement and interaction within your niche's hashtags on Instagram will help get you there. Put your three most effective ones in your Instagram bio!
On the other hand, you could be looking for the right influencer to promote your brand, and are using hashtags to find out who's important and engaging in your industry.
Hashtags allow you to find content that's relevant to you and your brand, and they do the same for people looking for content like yours.
Find out which influencers influence your influencers, for free.
So now you know where you want to go, the second step is how to get there. The most effective way to do this is to set a goal for each hashtag you use. Think about where this will deliver your content. Two of those places are the dropdown search bar, and the results page for the hashtag.
Can your brand own the dropdown search bar?
When you start typing in the search bar, beginning with a # a list of suggested hashtags will drop down. These suggestions are not based on popularity, which is a metric you can also see, but rather which hashtag Instagram thinks you are looking for. You will see the list change as you type, and if you want to know why the tags with more hits are further down the list, it's because the first suggestion is the nearest and closest popular hashtag to what you have in the search bar.
Can your brand own one of those suggestions that's close to what you are searching for?
You are looking for a hashtag that has some visibility, but much less than the biggest ones. Somewhere above 10,000 posts but fewer than 100,000 is the sweet spot. See if there's something your brand can co-opt. You may have room to operate in that space, and if so, you can rely on user curiosity about this slightly different hashtag to get your content seen.
The beauty of this strategy is that these are users who are already looking for this content, and that curiosity is going to drive them to click on your hashtag, which is already half the battle. The algorithm hasn't pushed anything to them, you can be assured that these are people who went out of their way to find you. Isn't it nice to be wanted?
How wanted can you get? When you click on a hashtag the first thing you see are the #Top9 posts under that Instagram hashtag. Get your brand in there and you will have a steady stream of engagement until you are dethroned. Next to that (or below if on a desktop) you will see the "Most Recent" posts within the hashtag. This is much closer to the chronological feed that Instagram did away with back in March of 2016.
Check out the "Most Recent" in a popular hashtag category, and then refresh. You'll see totally different, new, content in "Most Recent" while the "Top Posts" likely haven't changed.
Top and trending hashtags - which one is right for your brand?
A look at the 100 most popular Instagram hashtags based off
of over 930 million posts collected between May '18 and December '18.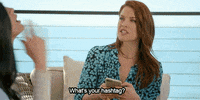 Source: GIPHY
Likely the answer is...none. As you can see there is lots of spammy behavior within this set, things like #LikeForLikes, #L4L, #FollowForFollowBack, #F4F or #FollowMe. C'mon, you're not that desperate. These aren't the people you want, in fact they probably aren't people at all and will only hurt your brand in the long run.
Remember, one eager comment from a real fan on your post is better than 100 likes from people or bots just looking for reciprocal behavior.
If you had to pick just one or two of these Instagram hashtags, which would they be?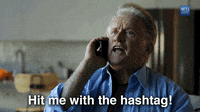 Source: GIPHY
For your very best content there's nothing wrong with using something super popular like #PhotoOfTheDay or #InstaGood. A good strategy is to use one or at most two of the top 100 hashtags on your best content, and complement it with 6-10 hashtags that are slight variations on the popular one.
#InstaGood (1 billion+ posts) can become #InstaGoodPhoto (56k posts) or #InstaGood👍 (83k posts) or #InstaGoodVibes (57k posts). This strategy will give you symbiosis - #Instagood will drive up some likes the moment it's posted which in turn tells the Instagram algorithm this content is good and popular and you may get your content into the #Top9 of some of the other hashtag variants. To be the first picture amongst 83,000 others under #InstaGood👍 is a pretty good place to be!
A look at the hashtag #InstaGood over the last 13 months on Instagram. The United States accounts for nearly half the uses.
Where is your hashtag most popular? Find out using Talkwalker's Free Social Search
If you're not sure the content's worth the squeeze, or you don't see a match with your niche in this word cloud, try hashtagging an emoji on Instagram. You can do that! What's great about it is that that little UniCode symbol can stand in for several words, making your hashtag more concise. And you can mix and match a combination of words and emoji within a single hashtag.
Just make sure the emoji means what you think it does. If you're a farmer and you want to brag about your fresh crop of eggplants and peaches, do it with #OrganicFood or #HealthyFood and variations. A quick click on #🍑 and #🍆 will show you that it's more like #FoodPorn without the food.
Fun fact: The eggplant emoji was once banned from turning up in Instagram searches.
What is bad brand behavior on Instagram?
Now let's look at bad behaviour using Instagram hashtags. This can range from lazy to negligent to outright harassment that can get you banned. You'll have to go out of your way to get banned, but it's good to know what the ultimatums we are dealing with are.
The Lazy: You didn't check that the hashtag means what you think it does. See: #🍑.
The Negligent: If your hashtag can be re-interpreted as something else, make sure you are okay with that. Susan Boyle found this out the hard way in 2012. Avoid that by making sure you, as the brand, always capitalize each new word in the hashtag, and it still looks okay even if you don't, because it's a guarantee that people who engage with that hashtag won't capitalize.
In that same vein, make sure your acronyms and abbreviations mean what you want them to. Here's looking at you Cheltenham Literary Festival 😥.
One year the Cheltenham Literary Festival wanted to be trendy & came up with the tag #CLITFEST

(Attendance was low, no one could find it)

— Parker (@ItsGEEKFEVER) December 22, 2016
The Harassment: Some people recommend saving your most used hashtags in a note that you can easily copy/paste over to each new post. There's even apps and widgets to help you do this now, but the issue with this method is the repetition. You're not always posting the same picture, are you? It's expressly forbidden in the Instagram terms and conditions, to post repetitive content or spam. You walk a fine line by doing this too often, and you limit yourself to just the hashtags you selected that one time.

Looking again at our word cloud we can see that #InstaGood is the second most popular hashtag on Instagram with over 72 million uses in this 6-month period. Perhaps less obvious, down at number 56 is #InstaFood with over 12 million uses in the same period. Look down at your keyboard, the space between the F and the G keys is all that separates you from a new audience. Now of course, only do this with a food pic, but you get the idea. Don't be afraid to experiment! Don't be afraid to make typos in your hashtags, because your audience will too.
Forget about hopping on a trending hashtag if you just copy and paste the same hashtags every time.
Widen your horizons, widen your funnel!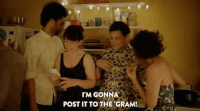 Source: GIPHY
Is there a magic number of hashtags on Instagram?
This is a concept that has migrated over from Twitter, where there absolutely is a magic number of hashtags that a brand can use to boost engagement. That number, on Twitter, is 1. However, things are not so cut and dry on Instagram.
The maximum number of hashtags you can use on a single post is 30. You are able to find many marketers who insist that by using less than the 30 maximum hashtags you are leaving something on the table. Others will cite the number 9, and others insist it's any number over 11. On the other hand, 30 hashtags in a row is not a pretty sight. Even just 9 hashtags isn't pretty.
The essential truth of hashtags: They are naked advertising, and which ones you use will reflect back on your brand.
Ultimately what wins on Instagram is pretty visuals.
The prettier the picture the more likes you will get. Yes you can have the best most beautiful content in the world, but if you don't use hashtags it will only be super popular amongst your followers. To put it in front of a new audience the hashtags you select will be key. They must be relevant and they must be small enough that the content doesn't get buried. The prettier the picture, the larger the hashtag you can use.
How can you hide the hashtags you use on Instagram?
If your feed is particularly aesthetic you may feel this is not something your followers want to see, it may even be off-putting to them.
There are two ways to hide Instagram hashtags.
The first is to insert them as a comment, although if you are using very popular hashtags this will not have any tangible effect on your content, quite simply, it will get lost in the noise in that moment between publishing the photo and posting the comment. Alternately, you can insert the hashtags in the caption, and if those are below the second line of the caption box they won't be seen by people searching the hashtag unless they click on the photo. You can use the period and ↵ button to give yourself the space you need.
What are campaign, product & brand hashtags?
Let's talk about the different types of hashtags brands use. First you have generic hashtags-- these are usually just single words describing a photo. So Coca-Cola might use #soda #cola #fountaindrink or even #pop if they wanted to drive Midwestern sales. But you've heard of the #ShareACoke campaign, literally a call out to get people who haven't yet purchased a Coke to be encouraged to do so by their friends.
The idea behind this branded hashtag campaign is that you can share a moment with a friend who may be on the other side of the world when you both enjoy a Coca-Cola beverage at the same time. And it's still going strong, to the tune of over 650,000 posts on Instagram.
Another type of hashtag is the product hashtag. This is most often going to be #_brandname_product, as Calvin Klein so helpfully illustrates.
This is a great way for digital consumers to browse a branded collection, but it also allows the brand to gather social intelligence around a specific line of products, which is a fantastic way to gain insights.
Maybe you don't have the many departments and verticals of a Calvin Klein, and you need to make just a single hashtag work overtime. The branded hashtag will do that for you, and done correctly it can double as a community hashtag and a product hashtag.
Check out what @fi.dogs does for their IG strategy. As a start-up with a single product, they are in high growth mode at the moment. #fidogs works as a brand and product hashtag. They turn it into a community hashtag by the content they post, often from their users. When their photos feature a pitbull they broaden their reach by engaging with fans of that breed with hashtags like #Pitbull or #PitbullsofInstagram. Then they pile on with more generic tags to really get as many eyeballs on their content as possible with hashtags like #RescueDog #HappyDog #DogsofNewYork #CityDog and the alpha dog of canine hashtags: #DogsOfInstagram. Their product is not designed specifically for one breed over another, and thus it behooves them to get exposure in these smaller, more active communities of dog lovers.
Hashtags also work great as a way to organize participants, such as in a contest or giveaway. All you have to do as the organizer of such a competition is to create an action you want your entrants to do, such as using a hashtag, and make sure you don't run afoul of Instagram's T&C's or state and federal laws. That hashtag is now your list of all the participants, and so long as you can prove that no consideration was given to the winner (ie: they were picked randomly, no purchase necessary, etc) you will have built a huge user base around your hashtag.
How can you follow hashtags?
Now we're going to take a look at some of the newer features on Instagram. You may never notice when Instagram updates its algorithm because it won't feel very different in your feed. However, you are sure to notice new features in-app that your brand can make use of, so make sure you use them to your advantage!
At the end of 2017, Instagram allowed you to start following hashtags. As a user, this is a great way to push content that's important to you into your feed. As a brand, it's an opportunity. You can use it quite simply to keep up with your industry, gather intelligence on your competition, and as a place to meet your digital consumers and fans.
It's also an advertising opportunity. Your followers can see not only who you follow, but what hashtags you follow too. If you are running a campaign with a branded hashtag, unfollow all the rest of your hashtags, and let that one shine on it's own. Any of your followers who are curious about who your brand follows will immediately be curious about this one single hashtag.
How to use hashtags in Instagram Stories
Now, tinkering with the algorithm in your Instagram feed may not change much to your scrolling experience, but the features being added monthly to your Instagram Stories is definitely something you will notice. Have you ever found a brand or other Instagram account that has fewer than 10 posts, yet thousands of followers? Either it's a fake and they bought their followers, or they are a Story-focused account and you can bet they made liberal and creative use of hashtags in their Stories. You should too.
Instagram allows a maximum of 10 hashtags in each Story post, but only one using the hashtag sticker.
This is a great tool to use on a branded campaign, or when you only need one hashtag. Tapping the sticker will change the color, but you only get three choices: Instagram branded pink/orange/blue, rainbow colored, or white and grey. If you need a broader range of colors you can write the hashtag normally without the sticker and edit the colors within the writing tool.
Perhaps you don't need the hashtags to look pretty, you don't even need people to see them. You can hide your hashtags within Instagram Stories by covering them up with a fun GIF or enlarged emoji. Or by shrinking them down to microscopic levels.
Remember that winning content on Instagram is visually engaging content. Would you be surprised to learn that not only does that still apply on Stories, but in fact it's even more important? You shouldn't be.
When you use a hashtag for a photo or video in your feed there is some guarantee that with enough scrolling within that hashtag you can eventually find your content. Stories offer no such guarantee. If your stuff isn't good enough, it won't show up. This isn't a shadowban, this is the reality of trying to aggregate over 500 million Stories posts per day (that's 5x more than posts to the regular Feed).
On the other hand, what if you are a smashing success?
The most popular hashtags get aggregated stories made about them. You as the brand can't control what that content is, all you can do is influence people to create their own content within that hashtag. But if you run a popular UGC campaign that resonates with people you will find your branded hashtag popping up everywhere. And most of that will be attached to word of mouth testimonials from your fans.
Don't let a viral moment go by without you knowing, sign up for free alerts today!
One final note on making your stories pop - use the stickers! Technically they are not hashtags, but things like location tags, quizzes, polls, even music.. That location can be as specific as the name of your business (You're on Google Maps right?) or as broad as the country you are in. That's great if your business relies on foot traffic, or receives a lot of visitors every day. Your story gets added to the location's story. If your location is not set up for foot traffic - like an office park or high-rise - you have the opportunity to build and own this location within Instagram. Start building the story you want to tell. Maybe all that content takes 6 months, a year, or more to create. Without competition for content in that space, it truly is yours to use and brand as you see fit.
How can you build a branded community using Instagram hashtags?
Now we understand that hashtags are more than just tools to expand your reach, they are truly designators of a community. The followers of your brand are a community too, and you can organize them around a hashtag that becomes associated with your brand.
Read that again, because the order of priorities is important: you can organize your followers around a community that is loosely related to your brand.
Authenticity is key and as such this is a community about a topic, not your brand. It's not all brand all the time, it's not about product or sales, it's about providing value, most often in the form of a space for your followers to share ideas and content. #WellTravelled by Herschel Supply Co. is a great example of a brand creating a community where the activity is more important than the product. Check it out - it's not like the product doesn't make it into the photos. In fact more often than not, they are sharing user photos of their products out in the wild. This is exactly what Herschel wants--real people using their products in creative ways all over the world every day, and telling others about it.
So how can you decide which hashtag to use on Instagram?
There are quite a few tools at your disposal, so a bit of research here can go a long way towards making sure you are well equipped.
The first tool you have available to you is the Post Insights feature within your Instagram Business account. This is a helpful kicking off point because for one thing it fits in your pocket - insights anywhere you go, whenever you need! Unfortunately, the data you are seeing is only related to your page. There is nothing to tell you about trending hashtags on other platforms and you don't get that same data about your competitor.
In short, the Posts Insights page can tell you what you can do better, but it can't tell you what to do.
Another great, free tool you can use is RiteTag, which shows you a broader spectrum of trending hashtags. You can use it to break into a new niche, see what other hashtags users of your hashtags are using, and monitor spikes amongst trending hashtags. It can answer a lot of questions for you.
Ultimately, the best tool you can use is Talkwalker's Quick Search. You just need to type in your keywords, and you will have a full range of insights available to you. In just a few clicks you can discover the most popular hashtags related to your search, but also, most popular brands, celebrities, emojis, themes and events. Then you can further filter by platform, device, demographic, almost anything you can imagine. It's a truly powerful tool that takes just a minute to generate actionable insights.
One last tool available to you is Ingramer's Hashtag Generator, which is also free. What's nice about this tool is that it generates hashtags not only based off of your keyword search, but also image uploads and URLs. It offers other services including an Instagram automation bot - we do not recommend you purchase this service! These bots may lead to your account getting locked or banned. The level of monitoring of these types of bots on Instagram is going to be increasing in the coming months. So, caveat lector.
The hashtag generator on the other hand is free, and will quickly put 50+ hashtags in front of you. These are not necessarily the best alternate hashtags for you to use, for that Quick Search is more accurate, and in a lot of ways some of the hashtags they suggest won't be related to your search. Nevertheless if hashtag writer's block hits, this a useful tool to have in your toolbox.
That's it! That's everything you need to get your Instagram content in front of the people who want to see it. Now get to tagging like you found an untouched subway car in 1980s New York.
Source: GIPHY
Wow, you made it through all that? You must be a pro.
As a pro, you've got an always-on responsibility for your brand. Let Talkwalker power your brand to new heights.