Navigating the
digital insights landscape
Embracing Dual Strategies and AI-Powered Consumer Intelligence
Rewatch our webinar as we explore the transformative strategies leveraged by organizations facing tightening budgets and the need to streamline resources while eliminating redundant tools.
1. Empowering Decision-Making
Social listening and AI-driven insights empower organizations to make informed decisions by understanding consumer sentiments, trends, and conversations across various platforms.
2. Diverse Data Sources
Social listening goes beyond text-based data, including images, videos, and audio content. These sources provide a comprehensive view of consumer behavior, preferences, and interactions.
3. Center of Excellence
Building a center of excellence for social listening involves setting up a framework to collect, analyze, and disseminate insights. Democratizing data within an organization encourages better decision-making at all levels.
4. Humanizing Consumer Insights
Social listening humanizes consumer insights by providing context, emotions, and cultural nuances. It helps understand consumer behaviors, opinions, and influencers, contributing to more effective marketing strategies.
5. Adapting to Change
The evolving landscape of social media and communication requires organizations to adapt and leverage AI technologies for tracking misinformation, identifying trends, and navigating dynamic customer preferences.
"Use social listening data alongside additional data sources to humanize your customer."
Guest Speaker - Kelsey Chickering, Forrester
Talkwalker Webinar - Navigating the Digital Insights Landscape
Generative AI in Your Everyday Work
Discover how the integration of generative AI is reshaping the landscape of professional tasks, just as Excel revolutionized our approach to data management. Learn how these technological advancements are seamlessly enhancing your work experiences, ushering in a new era of efficiency and innovation.
"We're able to find things faster than we've ever before, unlock real-time insights that we needed that were really critical to our business decisions that we would have never been able to do without the AI capabilities."
Marcy Rudowitz, Moderna
The seamless integration of AI in our daily lives
Moderna's Marcy Rudowitz highlights the profound extent to which AI has seamlessly already woven itself into the fabric of our daily routines. As we navigate through life, often oblivious to the AI-driven mechanisms that surround us, Marcy prompts us to recognize this and to feel empowered to harness AI's potential for professional advancement and personal enrichment.
"87% of consumers are actually using social media before they make purchasing decisions. the industry is evolving at such a rapid pace."
Cara Buscaglia, Talkwalker
AI's Contextual Understanding Transforms Analysis!
Cara talks about how AI possesses the unparalleled capability to scrutinize vast conversations and discern their context. Cara describes how AI's prowess outshines traditional descriptive analysis, eliminating guesswork and enabling increased precision in the analytical process, empowering teams to dedicate their energies to strategy and planning.
The future of consumer intelligence.
New White Paper - July 2023
Working closely with our customers and our internal team, we constantly review and explore the changing dynamics of social and customer channels.
Our new paper which is open to anyone to read, explains how we make sense of data in this AI-era and lifts the lid on where innovation can take us next.
If you are involved in how social and customer data is sourced, interpreted, analyzed, and communicated within your organization - we hope you'll find this paper insightful.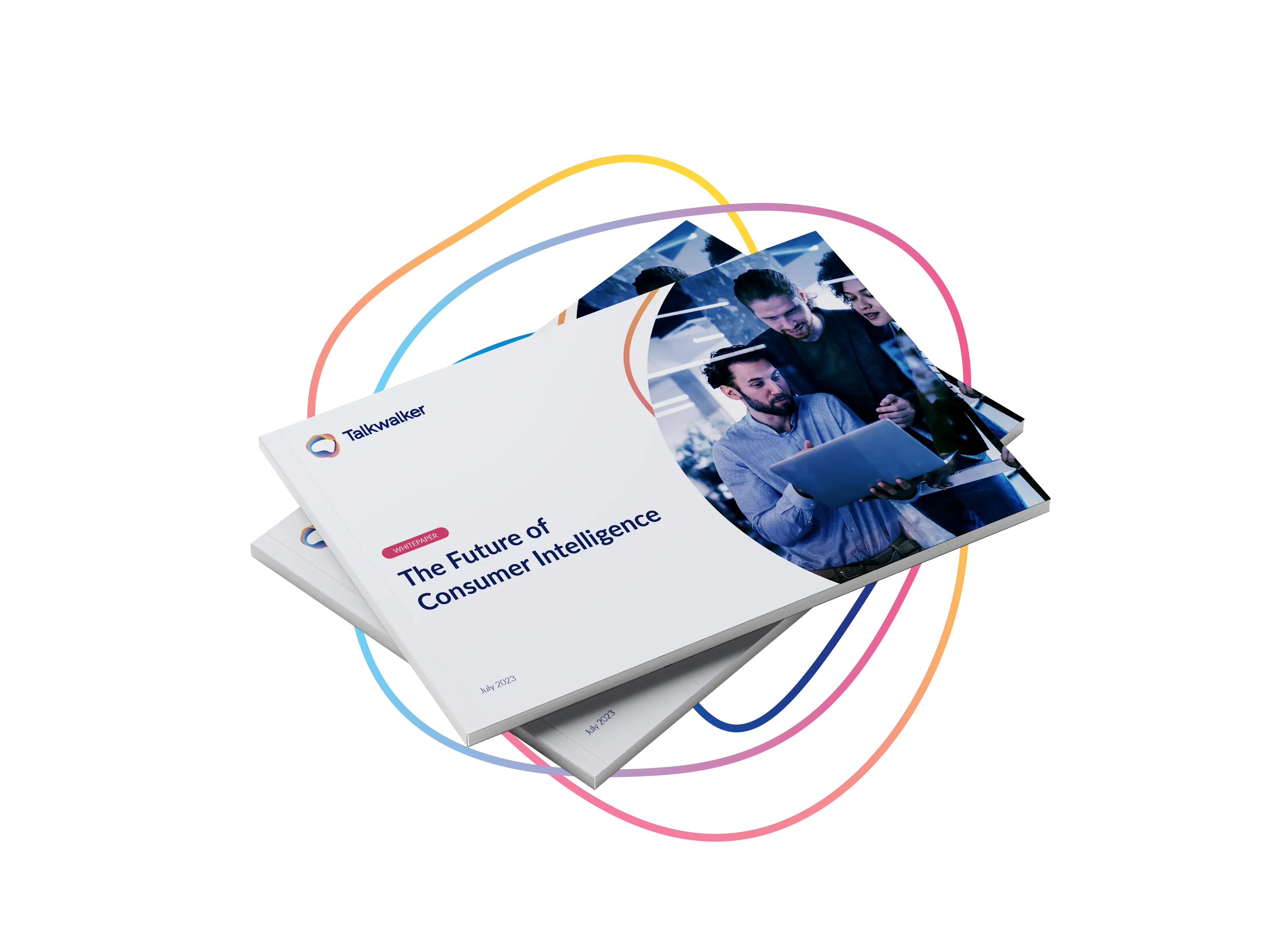 If you have any questions about this white paper, or would like to discuss the role of consumer intelligence within your organisation please contact us.